Skip to Content
A Homeowner's Guide to the Essentials of Furnace Maintenance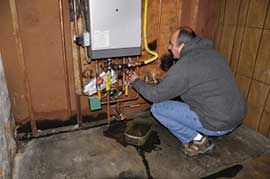 Even though spring is just around the corner, it can still get bone-chillingly cold here in St. George. Your furnace will keep you and your family comfortable until warmer weather arrives, but you need to take care of the furnace to make sure it performs as expected. Call a heater repair technician at the first sign of furnace trouble and follow these essential maintenance routines to keep your home warm all winter long.
Replace the Air Filter
Your furnace is equipped with a filter that removes debris and particulates from the air before it passes through the heating elements. This air filter helps keep your furnace clean and protects the quality of the air inside your home. Dirty or clogged air filters can place additional strain on your heating system, which can lower its efficiency and decrease its life expectancy. To keep your furnace in tip-top shape, check the air filter each month and change or clean as necessary.
Change the Furnace Belt
If your furnace has a blower, inspect the belts on the blower and motor when you inspect the air filter each month. Worn or frayed furnace belts need to be replaced with new ones of the same type and size. If you aren't comfortable changing the furnace belt on your own, contact your furnace repair company when you notice belts in need of replacement.
Clean Out the Furnace
Even if you aren't much of a handyman, cleaning out the furnace is one of the simplest maintenance procedures. After you clean the furnace filter, clean the blower assembly, belts, pulleys, and motor housing. The more dirt you can remove from the inside of your furnace, the better it will perform and the more efficient it will be.
If you're unsure about maintaining your furnace, let a professional help. Call a furnace repair company in St. George to have your furnace inspected before and after the heating season. And if your heater is on the fritz, have a new one installed before the ice and snow returns.