Skip to Content
Award-Winning Professional Sump Pump Services
Triple-T Heating, Cooling & Plumbing provides sump pump services to Utah residents. Have you ever wondered, how do sump pumps work? Sump pumps are located in the basements of homes or businesses and collect water in the sump basin, pumping it outdoors so that it doesn't damage your home. Not every house needs a sump pump, but if yours does, having the right one properly installed is the key to preventing significant damage. Our award-winning sump pump services can help prevent basement flooding. Our professional team can help you determine whether or not you need a sump pump and install one for you.
What is a Sump Pump?
A sump pump is a mechanism that transports water from a basement or crawlspace to the outside of one's home or business. The 'sump' is a naturally-constructed hole that is carved below the surface of the basement of one's basement or crawlspace. This hole is what holds the sump pump. The 'pump' has valves that can sense escalating water levels and pumps out the excess water when levels are too high.
The Benefits of Having a Sump Pump
A sump pump can provide home and business owners with a wide range of benefits. This mechanism is one that removes water from basements and crawlspaces, as well as the soil beneath those spaces. A sump pump will force the water out and into a draining space, helping your property avoid the hazards of flooding, water damage, and mold growth. As one of the best ways to prevent water damage, sump pumps provide property owners with various and vast benefits that umbrella from that. Sump pumps can expertly eliminate water from basements before it becomes a problem.
How Are Sump Pumps Preventative?
Sump pumps help prevent various hazards. Not only can these devices remove water from your property's basement or crawlspace, but they can also remove groundwater away from your home or business, draining the water out of the soil and away from your property. Ultimately, sump pumps provide property owners with water damage prevention, mold prevention, fire prevention, and more.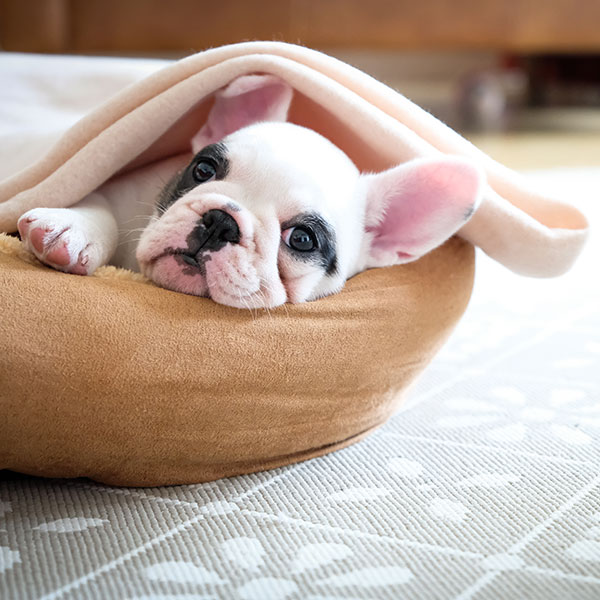 Does Your Home Need a Sump Pump?
Not all homes deal with flooding. If your home is located away from lakes or rivers, high enough above the water table, or particularly flood resistant, you'll be just fine without a sump pump. For those who aren't so fortunate, a properly functioning sump pump can make the difference between keeping your basement dry and having to pay dearly for water damage repair. At Triple-T Heating, Cooling & Plumbing, our experienced plumbers can help you select the right sump pump for your home, provide professional installation, or help troubleshoot problems with your existing sump pump.
Sump Pump & Sump Basin Selection
Choosing the right sump pump for your space depends largely on how vulnerable your basement is to flooding, how much water your sump pump will have to handle when flooding occurs, and how you want the pump to fit into your space. Your sump pump and basin will need to meet the needs for available space, water volume, and energy requirements. You need to be sure the basin is large enough to hold the water while the pump works to get it out, ensuring it won't overflow into the basement. You also may want to consider a battery backup option to provide additional insurance if the power goes out during a storm. Battery backup units help take over if the sump pump stops working due to a blackout or any other reason. It will kick in and keep your basement free of water during thunderstorms.
Types of Sump Pumps Available
Primary sump pumps typically come either as submersible or pedestal pumps. The type you will need will depend on where your home is located in relation to the water that could flood the basement. Depending on your needs, you can choose between the following:
Depending on your needs, you can choose between the following:
Submersible pumps: Submersible pumps are the most common type of pump and involve placing the motor inside the sump basin. They are typically quieter, are completely hidden, and are usually longer lasting than pedestal pumps.
Pedestal pumps: Pedestal pumps meanwhile sit with the motor outside of the water, above the sump basin. These are usually best for smaller sump basins. Pumps also come with a range of power levels, with those with higher power running for less time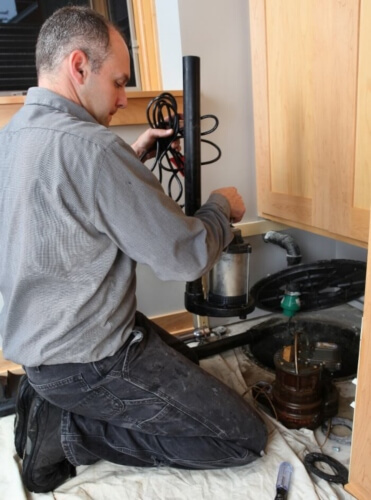 Sump Pump Installation, Repair & Plumbing Services
At Triple-T Heating, Cooling & Plumbing, our experienced technicians can help walk you through the range of sump pump options available and select the right choice for you. Once you have decided on the perfect model, our workers will provide installation and plumbing services to get it set up and ready to keep your basement dry. And if you're dealing with problems with your existing sump pump, we'll happily come out to diagnose and repair the problem.
Contact Us Today for Sump Pump Services
If you're dealing with sump pump issues or are interested in installing a new sump pump or sump pump basin, you can count on the professionals at Triple-T Heating, Cooling & Plumbing can help. Whether you need sump pump installation or repair, our experts have the experience and knowledge to ensure things run smoothly and efficiently. Contact us today to schedule your sump pump service appointment. We can also provide you with more information about how to replace a sump pump and so much more.
A Legacy & Tradition Since 1974

Nearly 5 Decades of Experience

Quick and 24-Hour Response Times

No Job is Too Big or Too Small for Our Team

We Offer Comprehensive Maintenance Plans

Treating Customers with Integrity, Honesty & Respect

We Are Fun and Professional

Easy Financing Options Available

A Can-Do-Attitude and Approach with All Jobs
Proudly Serving Utah & Washington Counties