Skip to Content
Lighting Installations in Utah & Washington County
$100 off any repair over $500*
*Repairs over $500. Restrictions apply. Call for details.
Utah Best Light Installation Services
When we think about lights in our homes, it's not just about being able to see. Lights can change how we feel in a room. They can make a space cozy and warm or bright and lively. They can highlight a cool painting or a special corner. The right kind of light can even make us feel better and happier. Proper lighting can transform your house. Imagine having the perfect soft light for movie nights or bright lights for study time. And it's not just inside – good outdoor lighting can make your garden or porch look amazing at night. If you're in Utah County or Washington County and you're thinking about changing or adding lights, there's good news. Triple T Plumbing Heating & Air is here to help you with any light installation. They know all about lighting and can make your home shine just the way you want.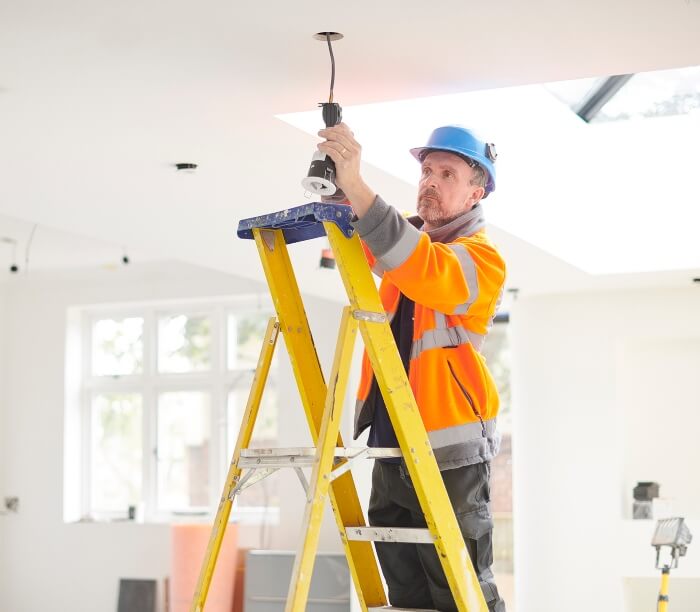 Types of Lighting Fixtures We Install
There are a plethora of lighting options available, and selecting the right one can be overwhelming. Here's a glimpse of the types we specialize in:
Chandeliers: A touch of elegance for your dining or living area.
Pendants: Perfect for kitchen islands or reading corners.
Wall Sconces: Enhance your hallways or bedroom with ambient lighting.
Recessed Lights: Modern, sleek, and great for low ceilings.
Outdoor Lights: Illuminate your pathways, porches, and garden areas.
Interior Lighting Installation & Exterior Lighting Installation
Have you ever thought about how different lights can change the way a room feels? Maybe you want your bedroom to have a cozy glow, or you wish your living room had more light for game nights. Changing the lights can make all the difference! Whether you're revamping your indoor space in Provo, UT, or adding a touch of glow to your garden in St. George, UT, we've got you covered. Our team has expertise in both interior lighting installation and exterior lighting installation. Want to highlight your home's unique architecture? Or maybe set up cozy outdoor seating? At Triple T Heating, we guide you through the best options tailored to your needs.
Wiring for Lighting
When it comes to light fixture wiring, we ensure it's done safely and efficiently. After all, proper wiring is the backbone of any light installation. For those in Orem, UT, Spanish Fork, UT, and other locales, our trusted team ensures that the electrical groundwork meets the highest standards, guaranteeing a seamless ceiling light installation or any other lighting project you have in mind.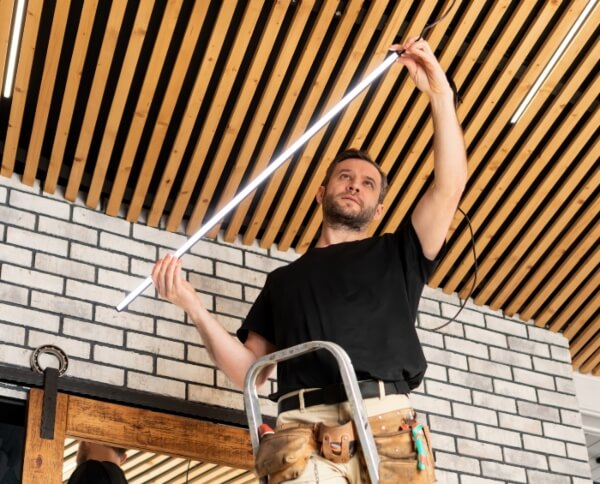 Why You Should Upgrade To LED Lights
If you're thinking about installing a light fixture with LED lights, you're in luck! Triple T Heating will help you pick the perfect lights for every room. They're experts at making homes feel just right with the best lighting. LED lights are the future. Here's why:
Energy Efficient: LED lights consume up to 90% less power than incandescent bulbs, which translates to decreased electricity bills.
Longer Lifespan: These lights last up to 25 times longer than traditional bulbs, meaning fewer replacements.
Eco-Friendly: LED lights contain no toxic materials and are 100% recyclable.
Versatility: They come in various color ranges, from warm and cozy to sharp and cool tones.
Why Choose Us For Your Lighting Installation Needs?
Searching for "lighting installers near me" or "outdoor lighting installation near me" can yield numerous results, but here's why residents of Utah County and Washington County trust Triple T Heating:
Experienced Professionals: Our team is trained, skilled, and always ready to offer top-notch services.
Tailored Solutions: We understand that every home is unique. We provide solutions that align with your specific needs.
Safety First: From light installation to wiring, we adhere to the highest safety standards.
Quality Assurance: We take immense pride in our work, ensuring that every project is a testament to our commitment to excellence.
Light Up Your Life
Lights in our homes are not just for seeing. They show off our style and help our rooms work best for us. Think about it: a soft lamp might be perfect for reading, while bright kitchen lights help us cook safely. At Triple T Heating, we believe in turning your vision into reality.
Making Your Space Shine
Dreaming of a fancy chandelier in your dining room? Or maybe some cool lights outside for your garden? Triple T Heating is here to help, no matter what you're imagining. They know just how to turn your lighting dreams into reality.
Time to Brighten Up?
If you're ready to change how your home feels with new lights, don't wait. Reach out to Triple T Heating. Let's make your home shine, one light at a time. Contact us today and book your spot now!
A Legacy & Tradition Since 1974

Nearly 5 Decades of Experience

Quick and 24-Hour Response Times

No Job is Too Big or Too Small for Our Team

We Offer Comprehensive Maintenance Plans

Treating Customers with Integrity, Honesty & Respect

We Are Fun and Professional

Easy Financing Options Available

A Can-Do-Attitude and Approach with All Jobs
Proudly Serving Utah & Washington Counties