Skip to Content
Circuit Breaker Services in Utah & Washington County
$100 off any repair over $500*
*Repairs over $500. Restrictions apply. Call for details.
Local Professional for Circuit Breaker Replacement and More
Triple-T Heating, Cooling, Plumbing & Electrical is the local team homeowners throughout Washington and Utah Counties trust for circuit breaker replacement and repair services. As a locally-owned and -operated business, our team of experts is committed to completing every repair or replacement project quickly and correctly the first time. We're licensed, bonded, and insured, so you can feel confident you're receiving high-quality services when you choose us. Homeowners are more connected to electrically powered devices now than ever before, so your circuit breaker must meet your demands. If you're experiencing issues with your home's circuit breaker, our team can identify the issue and make the necessary repairs or replace your circuit breaker. Contact our team today to schedule a service.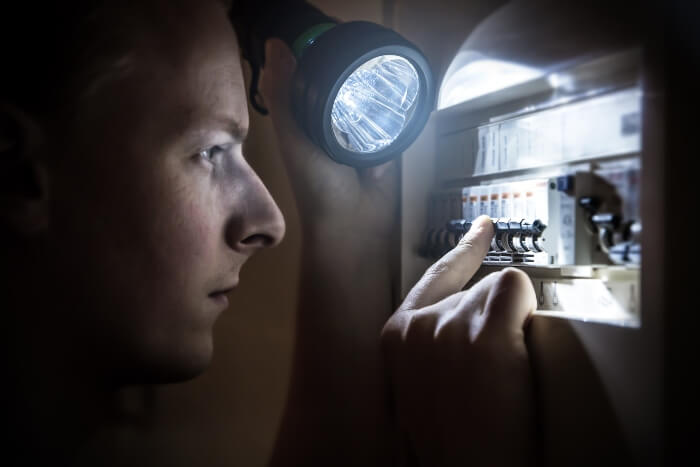 Why Are Circuit Breakers Important for My Home?
Your circuit breaker's primary responsibility is to keep your home, electronics, and family safe by switching off electronics when it detects dangerous power loads traveling through your electrical system. Each breaker is connected to a wire within your home with a small amount of solder. When the wire heats up and is at risk of overheating, the solder melts, causing the breaker to trip. Newer homes have a circuit breaker box, which can be found in the basement. If you don't have a basement, your circuit breaker may be located with the rest of your home's utilities. Older homes may still use a fuse box, which is more expensive and unsafe.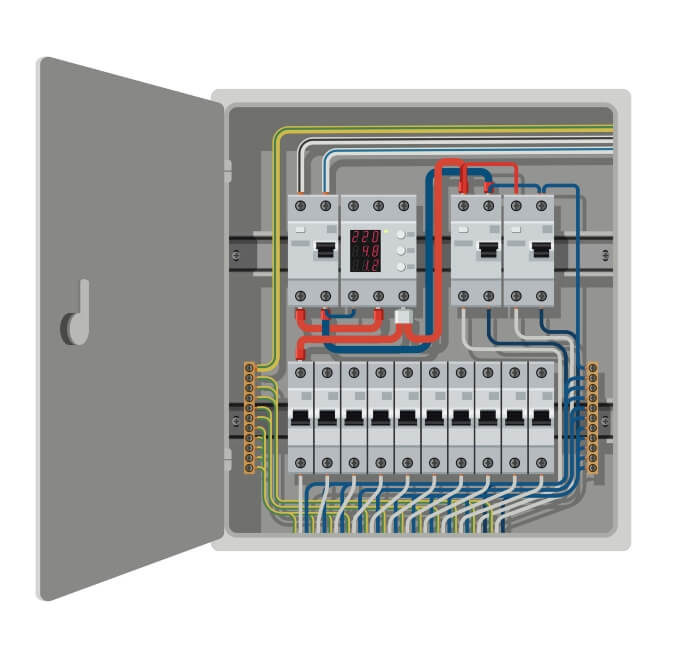 What Are the Signs I Need to Replace My Circuit Breaker?
Electrical circuit breakers are a complex and essential piece of equipment. A failing breaker box can lead to injury to you or your family members and cause devastating damage due to fire hazards. As a homeowner, it's important to be aware of some of the most common signs your circuit breaker is beginning to fail. Ignoring the issues for too long can damage your electronics, cause electrocution, and start a fire in your home. Contact our team if you notice any of the following signs of a damaged circuit breaker:
You Experience Continual Breaker Trips
Your Home Runs On a Fuse Box
The Panel Is Hot to the Touch
Your Panel Doesn't Have Any More Space
There's Physical Damage to the Breaker Panel
The Breaker Has Less Than 200 Amps
You Notice a Burning Smell
You Hear a Buzzing Noise Coming from the Breaker
Your Circuit Breaker Is Over 25 Years Old
How Much Does Circuit Breaker Replacement Cost?
There are numerous factors that determine the cost of replacing your home's circuit breaker. When you schedule a service with one of our expert electricians, we'll evaluate your current system and provide you with an accurate estimate before we get started so you know how much you'll spend. Our expert electricians will look at the following to determine the costs of your home's circuit breaker replacement:
Age – Circuit breakers have been used in homes since the 1960s. Throughout that time, the technology has vastly improved. The replacement will take longer to complete if you have an older circuit breaker or a fuse box.
Wiring – Proper wiring is critical to ensure the safety of your circuit breaker. However, if an untrained electrician incorrectly wired your breaker box, our team will ensure it is correctly wired during the replacement.
Parts Availability – One of the most significant factors when determining the price of your circuit breaker replacement is the availability and costs of the parts and the type of system you need.
Should I Replace or Repair My Home's Circuit Breaker?
The circuit breaker box is the center of your home's electrical system, so any problems will cause issues throughout the house. In most cases, a replacement will be necessary. However, there are a few types of repair options our team can complete to ensure your circuit breaker is working efficiently and correctly. Don't risk damaging your electric panel or injuring yourself with DIY repairs. Instead, trust our experienced electricians for the following types of repairs:
Breaker Issues – In the case of a malfunctioning or worn breaker switch, our experienced electricians can quickly replace the existing breaker with a new one to restore power to your appliances.
Wiring – If your current electrical panel was wired incorrectly, it may cause issues with your home's electrical. Our team can repair and replace any wiring that may be installed incorrectly to ensure your electrical panel is working safely.
Speak to a Local Electrician to Get Started On Your Service
Homeowners throughout Washington and Utah Counties trust the professional electricians at Triple-T Heating, Cooling, Plumbing & Electrical for all their circuit breaker repair and replacement needs. Our knowledgeable and experienced team has the skills and training to provide comprehensive services, including upgrades, repairs, and replacements for your circuit breakers. If you're experiencing issues with your home's electrical systems and lighting, don't ignore the issue and risk damage to your home and injury to your family. We offer 12-month interest-free financing services for those who qualify. Contact our electricians today to schedule your service.
A Legacy & Tradition Since 1974

Nearly 5 Decades of Experience

Quick and 24-Hour Response Times

No Job is Too Big or Too Small for Our Team

We Offer Comprehensive Maintenance Plans

Treating Customers with Integrity, Honesty & Respect

We Are Fun and Professional

Easy Financing Options Available

A Can-Do-Attitude and Approach with All Jobs
Proudly Serving Utah & Washington Counties