Skip to Content
Ceiling Fan Installation in Utah & Washington County
$100 off any repair over $500*
*Repairs over $500. Restrictions apply. Call for details.
Improve Your Home's Comfort With a Ceiling Fan Installation in Utah
Ceiling fans can add comfort, style, and energy efficiency to nearly any room in your home. You can rely on the experts at Triple-T Heating, Cooling, Plumbing & Electrical for ceiling fan installation and replacement services in Washington and Utah Counties. Any time you're dealing with your home's electrical system, it's best to leave it to the professionals. Our electricians have the proper skills, experience, tools, and training to make quick work of your ceiling fan project. Whether you want to install a new ceiling fan in a room or upgrade an existing one, we'll do the job right so that you can enjoy all the benefits of your new ceiling fan immediately. As a licensed, bonded, and insured team, you can always expect exceptional quality. Speak to one of our experts today to schedule your ceiling fan service.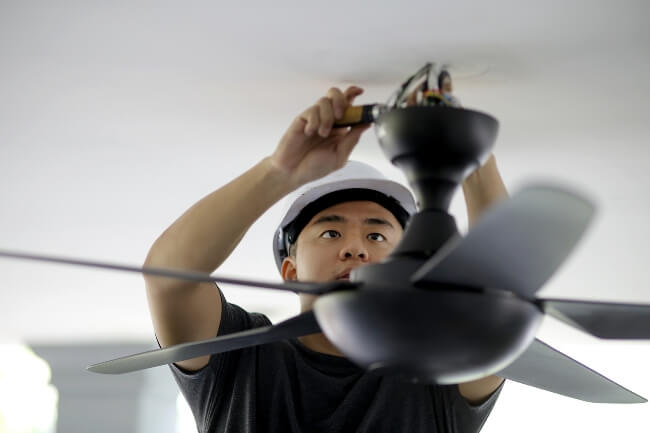 How to Choose the Right Ceiling Fan for My Home
There are numerous features to consider when selecting the perfect ceiling fan for your home. Whether you already have one picked out or you're unsure which style matches the aesthetics of the space, our team can help. We have installed countless ceiling fans in homes throughout the area, and we can help you select the right fan for your home. Taking the time to identify what is important to you and your family is crucial to ensure you select the right one. Some major considerations for choosing the best ceiling fan include the following:
Establishing Your Budget
Determining the Location
Picking the Type of Fan
Choosing the Correct Fan Size
Deciding If You Need Lighting
Selecting the Mounting Option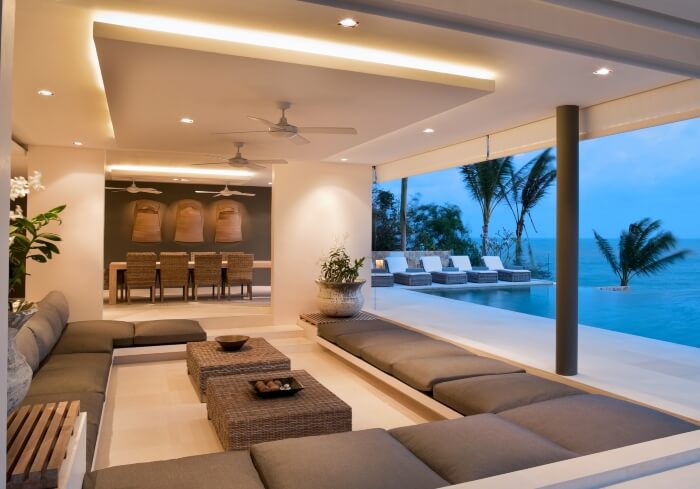 Discover the Different Types of Ceiling Fans
Homeowners have many different types of ceiling fans to choose from, making the decision more challenging. Not only do you want to make sure it matches the aesthetics of your home's style, but also that it's the right type. Understanding the different types of ceiling fans available will help you make the best selection. Whatever option you choose, you can feel confident our team can install it for you. Learn more about the most popular types of ceiling fans:
Standard Ceiling Fans – Standard ceiling fans are the most popular option due to their additional customization and lighting elements. They can be installed throughout the home in large and small rooms due to the varying blade size and rotational speed.
Low-Profile Ceiling Fans – A low-profile ceiling fan may be the best option if you have a smaller room with low ceilings. Their space-saving design ensures they are a safe distance (seven feet) off the floor.
Outdoor Ceiling Fans – Outdoor ceiling fans are installed on your porch, three-seasons room, or gazebo. They help keep you cool in your outdoor space during the hot summer months.
Dual Motor Ceiling Fans – Dual motor ceiling fans typically have two fans facing opposite directions. They are mounted to a central lighting element. These modern ceiling fan options provide a unique look for your space.
Learn About the Benefits of Ceiling Fan Installation
Ceiling fans can be found in thousands of homes throughout Utah and Washington Counties, and for good reason. They provide numerous benefits for your home both aesthetically and in terms of comfort. Whether you're considering replacing an existing ceiling fan or thinking of installing a new one in your living room, bedroom, or basement, we're the team you can trust. Learn more about the benefits of installing a new ceiling fan in your home:
Temperature Regulation
Energy Efficiency
Improved Style
Additional Lighting
Improved Air Quality
What Are the Signs I Need to Replace My Ceiling Fan?
Ceiling fans typically last between 15-20 years before the electrical and mechanical components begin to fail. While simply never using your ceiling fan is always an option, it may become an eyesore in your home if it's outdated or damaged. The better alternative is to contact the professionals at Triple-T Heating, Cooling, Plumbing & Electrical for ceiling fan repair and replacement. If you notice any of the following issues with your ceiling fan, we can help:
Wobbling Motion
Fan Won't Turn On
Out of Style
Mechanical Problems
Speed Issues
Schedule Your Ceiling Fan Replacement Service Today
Homeowners throughout Utah and Washington Counties trust the knowledgeable and experienced professionals at Triple-T Heating, Cooling, Plumbing & Electrical for ceiling fan replacement and installation services. A new ceiling fan can help you complete the look of a room upgrade while providing better comfort for your home. Don't waste your entire weekend attempting a DIY ceiling fan replacement. Our skilled technicians have the expertise and equipment to install a new ceiling fan or replace an existing one quickly. Contact our team today to schedule your service.
A Legacy & Tradition Since 1974

Nearly 5 Decades of Experience

Quick and 24-Hour Response Times

No Job is Too Big or Too Small for Our Team

We Offer Comprehensive Maintenance Plans

Treating Customers with Integrity, Honesty & Respect

We Are Fun and Professional

Easy Financing Options Available

A Can-Do-Attitude and Approach with All Jobs
Proudly Serving Utah & Washington Counties