Skip to Content
Switch and Outlet Installation in Utah & Washington County
$100 off any repair over $500*
*Repairs over $500. Restrictions apply. Call for details.
Professional Switch and Outlet Installation in Utah 
Improve the safety and convenience of your Utah County and Washington County home with switch and outlet installation from the team at Triple-T Heating, Cooling, Plumbing & Electrical. Since 1974, our knowledgeable and experienced technicians have been helping improve homeowners' lives throughout the area with our continual commitment to high-quality service. As a locally-owned business, we understand the importance of being a positive part of the community by supporting important committees and initiatives. Our expertise and care for our customers is why we're one of the area's reliable experts for all your home's services. If you're experiencing an issue with your light switch or outlet, you can trust us for replacement. Schedule your service today.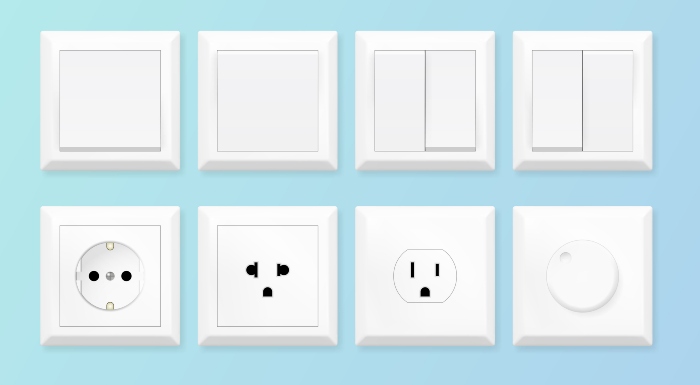 What's the Difference Between GFCI and AFCI Outlets?
Whether you're considering adding a new outlet to a room or replacing an existing one, it's crucial for your home and family to know the difference. The experts at Triple-T Heating, Cooling, Plumbing & Electrical can eliminate the guesswork with our professional outlet replacement and installation. When you choose us for new outlet installation, we'll consider the use and location and install the correct outlet. Learn more about the different types of outlets:
GFCI – Ground fault circuit interrupter outlets are typically installed in areas inside and outside the home where water is most prevalent, including bathrooms, kitchens, laundry rooms, and poolside. Electricity always finds the quickest path to the ground, which can lead to accidental electrocution. When the outlet detects the slightest change of amperage, it will immediately shut off to reduce the risk of serious injury. You can quickly determine if you have a GFCI outlet by the "test" and "reset" buttons found on the plate.
AFCI – When a loose connection and corroded wires make irregular contact with one another, it can cause an arc fault reaction. Even small arc fault reactions can generate significant amounts of heat, leading to a house fire. An arc fault circuit interrupter outlet can detect the amperage change and immediately turn off to protect your home.
When Should I Replace My Home's Switches and Outlets?
Better protect your home and family while improving style and convenience by upgrading your home's switches and outlets. Whether you've just purchased a home or you've been living in your existing one for decades, upgrading your outlets is an easy and smart choice. Our team will inspect each outlet and light switch to ensure it's safe for use. If you notice any of the following issues with your switches or outlets, it's important to get them replaced as soon as possible:
Hot to the Touch –The wires in your outlets and switches are insulated to prevent fires. However, loose connections, damage, and old age can cause the insulation to deteriorate, creating heating and eventually leading to a house fire.
Buzzing Noise – The buzzing noise you hear when you flip on a light switch or plug in a device is caused by an arc fault. While the threat of a house fire may not be imminent, it's crucial you act quickly to have it replaced.
Improved Convenience – There are numerous types of outlets and switches available that can provide better convenience and safety, including USB outlets, smart outlets, dimmers, smart light switches, motion sensor switches, and many more.
No Third Prong – Most high-power devices use a plug with a third grounding slot designed to prevent electrocution. However, if you own an older home, you may have outlets with only two slots and are at a greater risk of injury.
Sparks – If you notice sparks from your outlet when you plug or unplug a device, it's due to excessive power being drawn to the outlet. It can damage your device and represent a significant fire hazard.
Can I Replace an Outlet or Switch on My Own?
While many homeowners may feel confident enough to tackle an outlet replacement project on their own, there is a significant risk of electrocution when working with electricity. Improper installation can lead to damage to your home, your electrical system or injury to yourself. The only guaranteed way to ensure your new outlet or switch is installed correctly is to choose a trusted electrical supply company. Our team has the tools, skills, and knowledge to protect your home.
Schedule Your Outlet and Switch Replacement Today
Homeowners throughout Utah County and Washington County trust the knowledgeable and skilled technicians at Triple-T Heating, Cooling, Plumbing & Electrical for all their switch and outlet installation services. Families are more connected now than ever before, so having safe and reliable power is essential. Whether you need a single outlet replaced or need to upgrade all the outlets and switches in your home, we can help. We have the skills and knowledge to make the upgrade quickly and safely. Contact our professionals to schedule your service today.
A Legacy & Tradition Since 1974

Nearly 5 Decades of Experience

Quick and 24-Hour Response Times

No Job is Too Big or Too Small for Our Team

We Offer Comprehensive Maintenance Plans

Treating Customers with Integrity, Honesty & Respect

We Are Fun and Professional

Easy Financing Options Available

A Can-Do-Attitude and Approach with All Jobs
Proudly Serving Utah & Washington Counties