Skip to Content
$100 off any repair over $500*
*Repairs over $500. Restrictions apply. Call for details.
Triple T's Fast Furnace Repairs
Triple-T Heating, Cooling, Plumbing & Electrical offers furnace repair services in Utah County and Washington County, UT. Our experts provide comprehensive furnace services, including furnace installation, furnace repairs, and furnace maintenance services. Our priority is to keep you as comfortable as possible in cooler temperatures. We know your furnace is essential to your home, working hard to keep you warm. We have over 40 years of experience in the heating and cooling industry. You can rely on our team throughout Provo, Orem, Spanish Fork, Springville, St. George, Cedar City, Salt Lake City, Lehi, and American Fork. Contact us today to schedule furnace repair services if you're having trouble with your furnace.
Why Do I Need Fast Furnace Repairs?
Our team understands prompt furnace repair is critical. Our certified HVAC technicians offer fast and reliable furnace repair services. Whether you have a clogged burner, malfunctioning circuit board, broken parts, or a damaged heat exchanger, we're here for you. A faulty furnace can leave you in the cold and even produce deadly carbon monoxide. It's essential to contact us as soon as you suspect your furnace may need repairs.
Types of Furnaces We Repair
Our experienced service technicians can repair any type of furnace. The two most common types of furnace repair types include:
Gas Furnace – Gas furnaces offer an affordable, popular way to heat your home. A gas furnace uses burners that warm a heat changer to transfer heat that warms the air inside the furnace. A fan then blows the hot air through the ductwork.
Electric Furnace – Electric furnaces provide an environmentally friendly heating solution. They're quiet, clean, and easy to operate. Electric furnaces are powered by electricity and coils that get warm for proper heating.
How Do I Know I Need Furnace Repairs?
Furnaces can be complicated, and it can be challenging to know when you need repairs. It's essential to keep your eye out for the signs you may need furnace repair services, including:
High Energy Bills – If your utility bills skyrocket compared to previous seasons, there could be an issue with your HVAC system. Outrageously high utility bills can signal your unit is working harder to heat your home, causing your bills to skyrocket.
Non-Blue Burner Flame – Your gas burner flame should be blue and never yellow. A yellow flame may indicate dangerous carbon monoxide levels.
Strange Noises – A furnace is known to make noises, but they should never be anything other than a whirring sound. If you hear banging, booming, or squealing, there may be an issue with a fan or belt.
Strange Odor – A furnace should only produce the smell of burning fuel. If you notice an abnormal smell that doesn't fade, you could have excessive dust in the unit or a gas leak.
Inconsistent Temperature – The temperature in the main rooms of your home should be about the same. If your system struggles to work, you may notice cold spots in rooms throughout your home.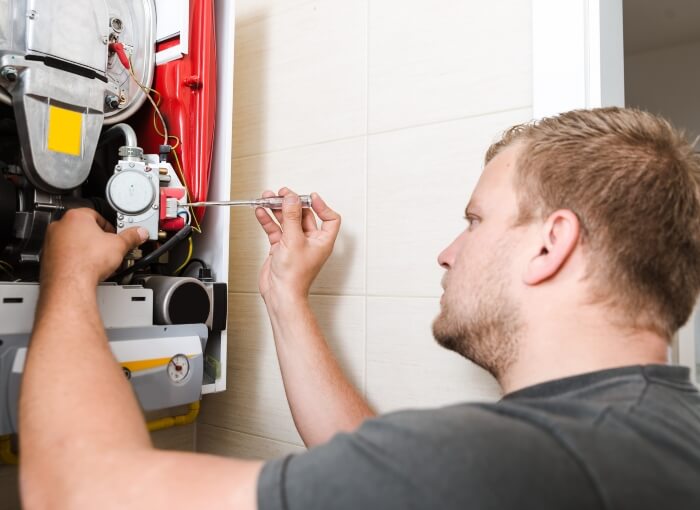 Importance of Professional Furnace Repairs
Homeowners are encouraged to replace furnace filters and check for any broken parts on a routine basis. We do not recommend attempting furnace repairs yourself. Our technicians undergo extensive training to ensure you get the best possible furnace repair services. You can injure yourself or cause additional damage to your furnace without proper training. Repairing a furnace is often a multi-step process that requires specialty tools. It's best to contact our team before attempting to determine the extent of your furnace issues.
Is It The Thermostat or the Furnace?
The thermostat is often a culprit of temperature issues instead of the heating system. If you've eliminated all common culprits of heating breakdowns, it's time to think about the thermostat. As the command center for your HVAC system, the small thermostat has a big job. It tells the furnace the temperature of your home. If the furnace isn't producing heat, something could be wrong with the thermostat. Try to replace the batteries, check the power switch, and look at the circuit breaker to ensure there is no blown fuse. Contact our team if the furnace is still not working correctly after trying these tricks.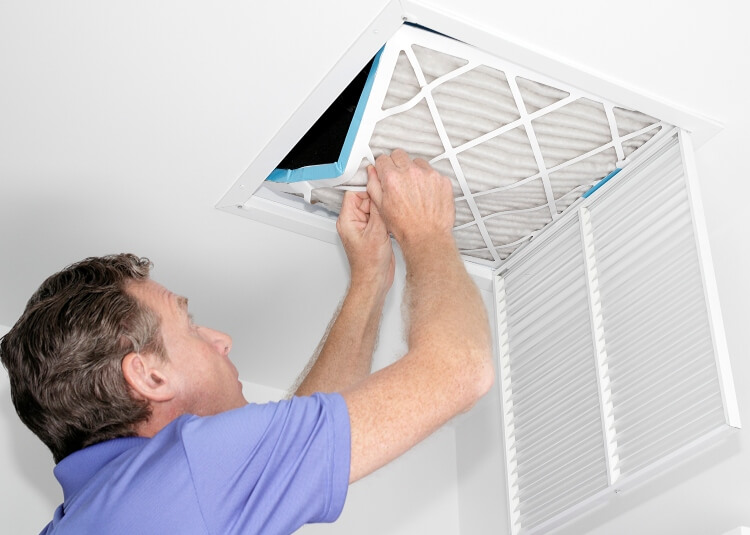 DIY Furnace Maintenance Tips
While you should leave the most essential furnace maintenance items to the professionals, there are a few things you can do to get your furnace ready for cooler weather. The most manageable tasks for homeowners include:
Schedule Annual Maintenance – The first thing to do before cold weather hits is to contact our experts for an annual furnace maintenance check.
Clean the Air Vents – You can easily wipe away dirt and debris that may block your airflow. It's as easy as removing the vent covers and cleaning out the debris.
Check Carbon Monoxide Detectors – It's critical to check your carbon monoxide detectors and change the batteries in your smoke detectors to save your life in an emergency.
Clean Around the Furnace – You can help eliminate a source of contaminator by cleaning dirt and debris around your furnace.
Comprehensive Furnace Maintenance Services
Your furnace may have issues in its life, or you may need a furnace replacement. We offer regular furnace maintenance services to inspect your HVAC system to test its health. Our furnace maintenance technicians will identify and repair any problems before your furnace breaks down. Our furnace maintenance includes:
Examining all elements of the system
Cleaning motors and fans
Inspecting ductwork and piping
Testing the entire system
Triple-T Financing Options
Triple-T Heating, Cooling, Plumbing & Electrical understands a heating and cooling system is a significant investment. We offer multiple financing options to give you peace of mind. We recommend the EnerBankUSA Home Projects financing for customers that qualify. Triple T's financing options include:
No Payment, No Interest Option for 12 Months
5 Year Loan with 6.99% APR
7 Year Loan with 6.99% APR
Why Choose Triple T?
Since 1974, the mission of Triple-T Heating, Cooling, Plumbing & Electrical has been to offer the highest level of services to the area. We uphold our mission by making customers our first priority. We always provide honest and reliable estimates backed with guaranteed customer satisfaction. We promise to extend the life of your heating system as much as possible before offering a complete replacement. Our technicians are EPA- and RMGA-certified with years of experience. We welcome you to take advantage of our fantastic financing solutions and always reach out with questions.
Contact Us Today for Furnace Installations
Triple-T Heating, Cooling, Plumbing & Electrical is ready to expertly install, replace, repair, and maintain any furnace throughout Utah County and Washington County, UT. We will help you choose the best furnace for your needs. Our team is here to answer questions and address concerns about furnace installation services. Contact us today to schedule furnace installation services.
A Legacy & Tradition Since 1974

Nearly 5 Decades of Experience

Quick and 24-Hour Response Times

No Job is Too Big or Too Small for Our Team

We Offer Comprehensive Maintenance Plans

Treating Customers with Integrity, Honesty & Respect

We Are Fun and Professional

Easy Financing Options Available

A Can-Do-Attitude and Approach with All Jobs
Proudly Serving Utah & Washington Counties