Skip to Content
Your Plumbing and Cold Temperatures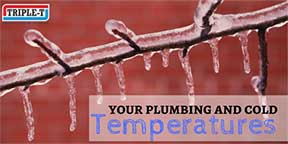 Having a pipe burst or freeze during the winter is a disastrous situation. However, with a few simple steps, before freezing temperatures arrive, you could easily prevent dealing with a frozen or burst pipe this season!
Indoors
Pipes typically freeze indoors because they are not properly insulated or because the temperature in your home is too cold. If you are leaving on vacation for an extended period of time, do NOT turn off your water heater. Ideally, your home should remain around 55 degrees to ensure that your pipes do not freeze. Opening your cupboards under sinks can assist with the circulation of heat around your pipes.
Allow your faucets to occasionally drip. This goes against the normal leaky faucet tip, but when temperatures become extremely cold, keeping your faucet dripping will prevent pipes from freezing.
Outdoors
Disconnect your hoses, drain and store them inside your garage all winter long. Consider covering any exposed outdoor pipes. You can easily wrap your pipes with an insulation material or purchase pipe sleeves.
Drain your sprinkler lines and turn off the water valve that supplies them. This can save you from replacing sprinkler parts and digging up pipes in the spring.
If you do encounter a frozen pipe this winter, immediately call a plumber near you. Plumbers can assist you with identifying the frozen pipe and getting it thawed out.
If your pipe did burst, immediately shut off your main water supply and contact a plumber. In Utah County, Triple-T is available for emergency plumbing services. Knowledgeable and efficient staff can repair any sized project. Triple-T Heating and Cooling is a plumbing company that values your home and will restore any winter pipe woes!
All of our work is backed by a 100% satisfaction guarantee. You can rest assured that when a plumbing emergency does arise, Triple-T will be there to solve the problem the first time around.