Skip to Content
When to Call an Emergency Plumbing Service
Picture this: It's the middle of the night, and you're nestled comfortably in bed when suddenly, you hear a strange sound. Upon inspection, you find a growing pool of water on your bathroom floor. At that moment, your DIY instincts might kick in, but should you really tackle this situation yourself?
When it comes to plumbing emergencies, it's usually best to resist the urge to fix it yourself. Pipes, drains, and sewer lines are complex systems, and mishandling them can lead to expensive repair costs or even health hazards. In situations where watering is leaking, sewage is backing up, or a plumbing fixture has broken, you know it's time to call an emergency plumber. This professional has the expertise and tools to perform efficient plumbing repairs, saving you time, stress, and future problems.
When to Call a 24-Hour Plumber
Although minor issues like a dripping faucet can wait for regular business hours, other situations warrant emergency plumbing services. Here are some common reasons to call a 24-hour plumber.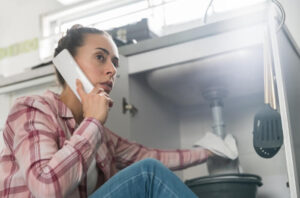 Frozen Pipe
When winter's chill sets in, the water in your pipes can freeze, causing blockages. This issue disrupts your regular water supply and can even lead to significant water damage if frozen pipes burst. If you suspect your pipes have frozen, call an emergency plumber without delay to mitigate the damage.
Burst Pipe
A broken pipe can cause major property damage and significantly increase your water bills. The trouble is that burst pipes aren't always visible. Unusual spikes in your water bill or the suspicious sound of running water when all the faucets are off should prompt immediate concern. If you notice these signs, contact an emergency plumber who can quickly diagnose the issue and perform necessary plumbing repairs.
Overflowing Toilet
Without swift intervention, an overflowing toilet can cause structural damage and pose a significant health hazard. The first thing to do is close the water inlet valve behind the toilet to limit the damage. Then, call an emergency plumber who will bring specialized tools and expertise to clear the blockage and make your toilet functional again.
Baked-Up Drain
If dark-colored water flows up from a sink or shower drain, it might signal an underlying problem with your sewer system, leading to unhygienic conditions if not handled correctly. For your safety, rely on a 24-hour plumber with the know-how to identify the cause, clear the clog, and ensure your drains flow smoothly from now on.
Plumbing Leak
Even small leaks can escalate into significant problems, potentially causing structural damage and promoting mold growth. If left unattended, leaks can also inflate your water bill. Call your local plumber as soon as you notice a leak, no matter how minor it may seem. A plumbing professional can identify where it's coming from, perform an efficient plumbing repair, and provide advice to prevent future leaks.
Sewer Line Leak
A leaky sewer line is a serious problem that can affect your home's structural integrity and present considerable health risks. Telltale signs include foul odors around your property, slow drains, and unusually lush patches of grass. These signs should trigger an immediate call to an emergency plumber. With their expertise, you can get your sewer lines functioning properly again.
No Hot Water
A blast of cold water in the shower isn't just a minor inconvenience; it can seriously affect the comfort of your home, especially if children or older adults live with you. So if your water heater fails, don't wait until regular business hours to fix it. Contact a 24-hour plumber who can restore your hot water supply without delay.
Water Heater Leak
The average water heater holds 40 to 50 gallons. A small leak may not seem serious, but if the tank rusts through, you could end up with significant water damage. Signs to watch for include puddles of water around your water heater and decreased hot water supply. If you suspect a water heater leak, your local plumber should be your first call. They can assess the situation, repair faulty components if possible, or recommend installing a new water heater to prevent future problems.
Broken Sump Pump During a Storm
You rely on your sump pump to keep your basement dry during torrential downpours. If your sump pump stops working during a storm, failure to act could lead to basement flooding. In this scenario, an emergency plumbing service can be a lifesaver. The plumber will assess your sump pump's condition and perform urgent repairs or replacements to prevent basement flooding.
Low or No Water Pressure
If you turn on the tap to find a mere trickle of water flowing out, there could be a serious underlying issue, such as a hidden leak or pipe blockage. If left untreated, these problems can cause major complications. You might want to call your water utility company first to see if there are any issues on their end. If not, call your local plumber for help diagnosing and fixing your water pressure problem.
Gas Line Leak
A leaky gas line is a potentially deadly situation that demands immediate attention. The distinct smell of gas in your home, similar to rotten eggs, should prompt immediate evacuation. Once outside, call a 24-hour plumber from a safe location. These professionals have the training to deal with hazardous gas leaks, ensuring your home is safe for you and your family to return to.
Contact an Experienced Local Plumber
When plumbing disasters strike, having a local plumber you can trust is crucial. Triple T Heating, Cooling & Plumbing offers expert 24-hour emergency plumbing services in Utah County, including Provo, Orem, and Spanish Fork. Our team has 50 years of experience providing top-quality solutions that stand the test of time. We pride ourselves on our fast response times, exceptional workmanship, and commitment to customer satisfaction.
Don't let a plumbing emergency catch you off-guard—call us right away at 801-798-7711, and our skilled plumbers will turn your crisis into a hassle-free experience.