Skip to Content
What to Expect When Your New Furnace Is Installed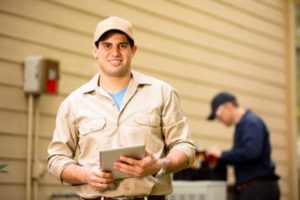 Getting a new furnace means you're getting heating you can count on and usually better energy efficiency than your old system. Your heating installation specialist can walk you through what to expect on the day you get your furnace, but this information will also help you get ready for the process. Keep in mind that it is essential to have professionals do your heating installation. Amateur furnace installation not only makes it likely that your heating won't work as expected, but it can also be unsafe for your family.
Step One: Removing Your Old Furnace
Before your new furnace can be installed, the old one has to be removed. Typically, this is the longest and most complicated part of the process. After disconnecting all of the parts of the old furnace, your installation team has to remove it from your home and dispose of it safely, according to your county's requirements. After the old furnace is removed, your installer will then get the space ready for the new furnace. Sometimes, this simply means sweeping the area, but in other cases, other adjustments are necessary.
Step Two: Connecting the Furnace
Once your new furnace is in the appropriate position, it may be bolted to the floor. Next, your installation company must start connecting the furnace to the appropriate parts to make it function. The furnace will be hooked up to your ventilation system via the flanges on your ductwork, and then, it will be connected to the power source, whether it is gas or electric, and then the final electrical parts—which are even there on gas furnaces—are connected.
Step Three: Testing the Furnace
The important last step in the furnace installation process is testing it. Your installation team will measure the intake and airflow of the heating system to make sure it is working as expected and that there are no signs of any safety issues.
Triple T Heating and Cooling offer HVAC installation and maintenance for residential and commercial customers, including reliable furnace services. If you are interested in a new furnace in St. George, contact us at 801-798-7711.