Skip to Content
Is Your Furnace Ready for Fall?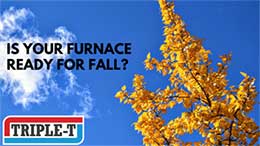 It may still be hot in Utah County, but now is the perfect time to start thinking about your furnace and how it will function when you need it this fall. You may not need it now, but you'll want it to work when you need it in a few months right?
At Triple T we want you to be comfortable and to have the tips to allow you to do things to ensure that you will be, and that includes some furnace maintenance activities. We're here to ensure your comfort, and we'll be here if you decide you need a pro to do the work.
4 Furnace Maintenance Tasks to Complete Before Fall
Schedule Annual Maintenance By a Technician – As part of your heating inspection, an HVAC pro like the technicians we employ will perform the following tasks:
Clean the inside areas of the furnace, including all Safety devices
Change filters
Examine the Heat Exchanger for Safety
Clean the motor and fan
Test the entire unit to ensure it works when you need it to
Check and Clean the Air Vents – The vents in your home can get dusty. The accumulation of dirt and debris can block the airflow, meaning that even if your furnace is in perfect working order, you might not get the optimal heating results. Removing the vent covers and wiping the surface down and cleaning out debris that might be inside is a great way to help keep air flowing. You may even consider a Whole house duct cleaning.
Check Carbon Monoxide Detectors and Change Batteries – Like your smoke detector, the carbon monoxide detector can save your life. Carbon monoxide isn't something you can see or smell, but a working detector can alert you to a problem that can kill you if it goes unchecked. It's important to make sure that the detector works properly, especially in bedrooms, before you start using your furnace more often.
Clean Around the Furnace – One of the easier tasks if your furnace is an easily accessible location, is to vacuum around the furnace. Not only does it clean your home, but it also eliminates a potential source of contamination and dirt that can get inside the machine. The furnace works most efficiently when it is clean, so removing the dust buildup is important to keep the machine running properly.
Issues to Leave to a Furnace Repair Technician
If you aren't comfortable performing furnace maintenance tasks on your own it is important to call in a professional. There are a few maintenance tasks that are best left to the technicians who have been trained to work with these machines.
If you notice any of these issues, call us today so we can get your furnace back in tip-top shape:
Soot deposits
Short cycles of less than five minutes.
Strange noises from a forced air heat system
Irregular flame
Reach out to us today if you're interested in scheduling a heating inspection before you need to start using your furnace more frequently. Triple T is here to keep your family comfortable and safe.