Skip to Content
What Are the Benefits of Ductless-Split Units?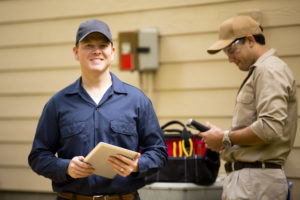 Split-air units, also called mini-splits, are ductless alternatives to traditional HVAC systems. Homeowners are increasingly gravitating towards these systems for the many benefits they provide. If your HVAC technician has recommended a split-air unit for your home, here is a look at some of the benefits you can expect.
Heating and Cooling Flexibility
Traditional HVAC systems operate in very large zones—typically an entire floor of a home or even the whole house itself will be a zone. With split-air units, you can achieve more precise temperature control throughout your home, keeping different rooms at different temperatures according to your needs and preferences. This ability increases your comfort while reducing the need to heat and cool unused parts of your home. Many homeowners enjoy benefits like the ability to keep their bedrooms cooler for sleeping but maintaining a warmer temperature in their main living spaces.
Energy Efficiency
Split-air units are ductless, unlike traditional HVAC systems. Ducts are responsible for an enormous amount of energy loss—in fact, up to 30% of your heating and cooling energy can be lost via ductwork. Since split-air systems don't have ducts, they are more energy-efficient than traditional units. The ability to control the temperature in smaller zones also increases the energy efficiency of ductless units.
Design Flexibility
Split-air units are small and can be mounted on walls or in the ceiling. They are unobtrusive and take up much less space than large vents and registers. These systems are controlled with a remote control or smart home system on your phone, making them easy and convenient to use. From an interior design perspective, they are easy to blend into your home without taking up valuable wall space. Plus, they allow you to place your furniture any way you'd like since you don't have to worry about covering up an HVAC register.
Are you interested in experiencing the benefits of a split-air system in your home? Triple-T Plumbing, Heating & Air can help you select the right HVAC for your space and provide expert installation services. Learn more about your HVAC options in Spanish Fork and St. George, UT by calling 801-798-7711.