Skip to Content
Spotlight on Mitsubishi Ductless Indoor Units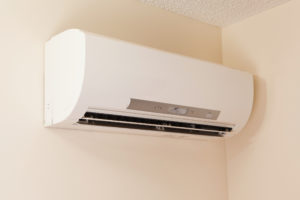 HVAC experts strongly recommend that homeowners consider installing Mitsubishi ductless indoor units for unmatched heating and cooling performance. These units are wall-mounted and feature a sleek profile and flat panel to blend in seamlessly with any room's décor. As the name implies, no ductwork is required for these discreet units. They're usually mounted on a wall, but could also be mounted on the ceiling or floor. These units are Energy Star-rated to cut your utility costs and support the environment.
Mitsubishi ductless indoor units boast smart home technology, with return sensors on each unit to flawlessly maintain the temperature you choose in each room. Select units are equipped with infrared technology, allowing them to scan each room for human heat signatures, and adjust the settings automatically. Mitsubishi ductless units feature washable, 10-year filters with superior allergen filtration technology for better indoor air quality.
Mitsubishi ductless systems are available in Spanish Fork and St. George, UT. Call Triple-T Plumbing, Heating & Air at 801-798-7711 to set up an appointment.