Skip to Content
What Are the Benefits of Air Duct Cleaning?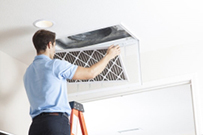 No matter how carefully you scrub your home, it could be harboring billions of harmful, microscopic contaminants. The air ducts are home to bacteria, fungi, and viruses that can make your family sick. They can also contain mold spores, pollen, and dust particles that can trigger allergy and asthma attacks, and worsen other respiratory issues. That's why it's so important to schedule professional air duct cleaning at regular intervals. A residential HVAC technician can remove all of those harmful contaminants, and improve your indoor air quality.
Indoor air quality is important for your family's comfort as well as its health. Air ducts can trap unappealing smells, but professional cleaning can get rid of them. Another main benefit of air duct cleaning is that it can help your HVAC system run more efficiently. This is because the accumulated grime and dust inside the ductwork can inhibit the free flow of air along with the system.
Triple T Heating & Cooling offers complete indoor air quality services in Spanish Fork, including professional air duct cleaning. Call our friendly office staff at 801-798-7711, and let us know how we can help your family live more comfortably.