Skip to Content
See How a Mitsubishi Ductless System Made This Old Home Energy-Efficient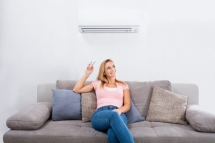 You might already know that ductless heat pumps are ideal for homes in warmer climates. But did you know they can also be used year-round in colder climates? Watch this video to see how a homeowner in a northern city renovated his house, which dates back to the 1880s, with the help of an energy-efficient HVAC system.
He chose the Mitsubishi ductless system because it offers precise control over each individual heating and cooling zone in the home. It's also highly efficient. Once the solar panels are installed, the home will start producing more energy than it uses.
For year-round comfort, you can get a Mitsubishi ductless system in your home in Spanish Forks. Just call Triple T Heating & Cooling at 801-798-7711 to speak with one of our highly trained HVAC specialists!