Skip to Content
Do You Know Your HVAC Company's Credentials?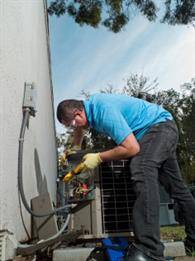 When you pay to have an HVAC technician come to your home or workplace, your expectation should rightfully be to get your problem resolved as quickly and efficiently as possible. However, one common experience our company has is that we often get called out for service AFTER another HVAC was recently at the home or business. This may seem counterintuitive, but unfortunately, too many other companies in our field aren't providing effective customer solutions.
So why is this occurring? Unfortunately, in Utah, the HVAC industry is not regulated and technicians are not required to attain additional certifications or undergo continuing education. At Triple-T, we take great pride in our technicians having continuing training and certifications. Below are some of the certifications our technicians hold.
Nate Certification
One of the top kinds of credentials you may look for is proof of the North American Technician Excellence (NATE) certification. This certification is recognized on a national level as a high standard to which HVAC professionals should be held. While this certification isn't a legal requirement in order to work in the field, it covers information that HVAC technicians should know.
NATE training includes working knowledge of a variety of areas in the field, and it also covers some specialty areas that are useful to those in the industry. Some of the specialty areas for which a professional might receive NATE training include air conditioning, air distribution, and oil and gas heating. A technician who has received specialty training may be able to perform a broad range of HVAC tasks for you.
RMGA
Another credential to ask about when evaluating HVAC companies is the Rocky Mountain Gas Association (RMGA) certification. You can search for RMGA certified contractors in Utah at https://utrmga.org.
EPA Exam
One type of certification that you may want to look for is proof that a technician is qualified to handle refrigerants properly. This can be verified when a professional passes the appropriate U. S. Environmental Protection Agency (EPA) exam. All of our technicians are RMGA and EPA certified.
HVAC companies that don't require their employees to be properly trained may cause problems for everyone involved. This often means that other (qualified) professionals must be employed to fix the original problems that customers have, as well as additional issues that may arise due to hiring an individual without adequate training.
Other Trust Factors
In addition to industry credentials, it's also important to evaluate customer feedback and online word-of-mouth, which can be easily found in an online search. If a company has a large number of complaints and low ratings on review pages on sites such as Google, Yelp, and Facebook, or has no presence at all, you may want to consider other options.
Another factor to consider is how long the HVAC parts and services are warrantied for. At Triple-T, we want our customers to be 100% satisfied with the work performed. We warranty all our parts and labor for 12 months. This is significantly more than many of our competitors, most of whom offer 90-day warranties. We also provide a lifetime warranty on craftsmanship.
HVAC professionals who are willing to invest time and money in ongoing training and certification are best qualified to service your HVAC system. You should always ask to see the business license and industry credentials that a professional has to offer. This will help to ensure that the person doing work in your home is qualified for the job and get it done right the first time out.