Skip to Content
FAQS and Answers About Mitsubishi Ductless Systems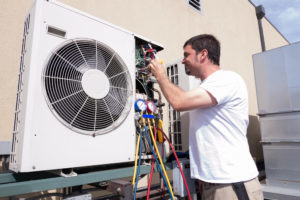 Mitsubishi has set the gold standard in ductless HVAC systems for homes and businesses. Mitsubishi ductless systems are an efficient and cost-effective way to keep your family comfortable while avoiding the hassle of ductwork. Talk to an HVAC technician to find out if a ductless mini-split is the right solution for you.
How do ductless systems work?
The Mitsubishi mini-split is a heat pump. But despite the name, it provides both heating and cooling to keep your home comfortable year-round. There are interior components and an exterior unit. The indoor units are sleek and compact to fit in with your existing décor, and they mount directly on a wall. Each indoor unit is connected to the outdoor unit not by ductwork, but rather via a line that extends through a very small hole in the exterior wall.
Can Mitsubishi ductless systems manage indoor air quality?
Yes. These systems are designed with sophisticated filtration capabilities. They can remove indoor air contaminants, purify the air, and even deodorize the air.
What is zoned heating and cooling?
Mitsubishi ductless mini splits support multi-zone heating and cooling. This means you aren't limited to having the same temperature in every room of your home. Each wall-mounted unit can provide its own zone of comfort, which allows each family member to stay comfortable according to his or her preferences.
How does the system monitor the air?
Each wall-mounted system assesses the air in its own zone. This means that, for example, the unit in the living room will adjust itself based on the temperature in the living room. The inverter technology in these systems provides continuous ramping up or down, rather than turning on or off as established temperature thresholds are reached. Additionally, some units are equipped with the 3D I-See Sensor, which identifies the heat signatures of occupants in the room, and adjusts the temperature accordingly.
Here at Triple T Heating & Cooling, our commercial and residential HVAC technicians have extensive experience installing Mitsubishi ductless systems. We proudly serve Spanish Fork, St. George, and the surrounding areas. Call our friendly office staff at 801-798-7711 to get the answers to your HVAC questions.