Skip to Content
Celebrating AC Appreciation Week!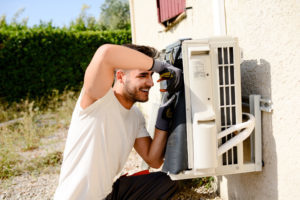 When it's so hot outside that time itself seems to slow down, you'll probably catch yourself mentally thanking whoever it was that invented air conditioning. (It was Willis Carrier, whose mother taught him the math skills he needed to help countless people stay comfortable in hot weather.) You can show your abiding gratitude to Willis Carrier and modern air conditioning by celebrating AC Appreciation Week during the third week of August.
One cool way to celebrate air conditioning is by seeing a summer blockbuster at your local theater. It's thought that AC directly contributed to the rise of the summer blockbuster phenomenon, as people often relied on AC in theaters to stay cool during heatwaves. Another way to celebrate is by scheduling residential HVAC maintenance services. Keep your filters clean and your AC unit properly serviced to extend its longevity.
Triple T Heating & Cooling is a full-service HVAC company serving Spanish Fork, St. George, and the surrounding areas. You can give us a call at 801-798-7711
to have your AC serviced, repaired, or replaced.