Skip to Content
Smart Thermostats: Get the Answers to Your Questions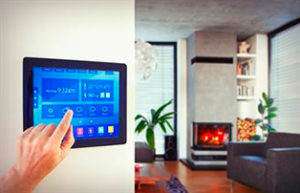 Your HVAC is responsible for the bulk of your home energy use, so anything you can do to make it more efficient will reduce your utility bills and your impact on the environment. That is where smart thermostats enter the picture. This smart home technology can help you better manage your HVAC usage, keeping your home more comfortable with more efficiency. Are you considering installing a smart thermostat in your home? Here are the answers to some questions that are likely to be on your mind.
What exactly is a smart thermostat?
Smart thermostats are typically integrated with an app on your smartphone and give you more control of your heating and cooling habits. In addition to giving you the ability to adjust your temperature setting from anywhere and programming different heating and cooling cycles at different times, smart thermostats learn your habits, and in some cases, they can self-adjust, according to the conditions. Additionally, they allow you to see your heating and cooling routines and energy consumption, so you can make adjustments to help you save money on your bills.
Can anyone get a smart thermostat?
In most cases, a smart thermostat can be easily introduced to your existing HVAC set-up. Allow an HVAC tech to install the thermostat for you, so you can be sure it is put in correctly and that you understand all of the features it has. Your HVAC tech can also help you pick the right smart thermostat for your needs.
Will I definitely save money with a smart thermostat?
Like any smart home system, your smart thermostat is only as effective as how you use it. They provide you with a great deal of data that can be mined to refine your energy usage and the ability to program your heating and cooling with more accuracy, but these advantages aren't automatic. Allowing your HVAC tech to show you how to get the most from your smart thermostat is crucial to using it effectively for cost-saving benefits.
Triple T Heating & Cooling provides expert smart home advice in Spanish Fork to help you reduce your energy usage. Find out more about smart thermostat installation by calling 801-798-7711.