Skip to Content
Need a new AC Unit? Consider a Mitsubishi Ductless Split System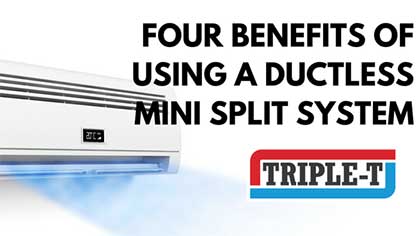 At Triple T, we know just how hot the southern Utah summers get, and we want to make sure that you have the most comfortable summer possible. We sell a variety of units, including a ductless mini-split unit that can easily cool a room or two, or even your whole house.
If you're looking for a new air conditioner, the Mitsubishi ductless split unit is a great choice.
As the name implies, a ductless split unit from Mitsubishi doesn't require the work of installing and maintaining ductwork to cool your home. These are great for single rooms, but can also cool multiple areas at once. Also called a split ductless system, or multi-split system, this kind of air conditioning unit is comprised of an outdoor condenser unit and also include a remote that you can use.
Four Benefits of Using a Ductless Mini-Split System
A Mitsubishi ductless split unit is easier to install than a ducted air conditioning system, but beyond that, there are a few benefits that people may not always think of as they're looking for a new AC unit.
Cleaner Air. – Not only does a ductless mini-split system cool your home so that it's comfortable, but it also provides cleaner air. Throughout the system, multiple air filters clean the dust, dirt, and pollen out of the air as it comes inside.
Better cooling. – A mini-split system does a better job of efficiently cooling specific areas. This is because you can easily configure the units to cool only the specific areas where they are located. You can do this by using the zone control that these units have.
Increased efficiency. – These units avoid some of the cooling loss that ducted systems have happened. The cool air doesn't dissipate in the ductwork; instead, it cools the room you want it to.
Increased security. – People don't always associate safety with an air conditioner, but with window units and those installed through the wall, there is a bit more of an access point for intruders who might be looking for opportunities. Split systems are installed with a small hole in the wall.
How Does a Ductless Mini-Split System Work?
This type of system uses both indoor and outdoor units, but these units are different because the indoor unit cools the room it's in, exchanging the warm air for cold.
You can hook up multiple indoor units to cool an entire home. There are several styles of indoor cooling units to blend into the decor theme of the room. You're not restricted to the larger window units if you want an air conditioner. Ceiling and floor mounts are two options for indoor cooling unit styles.
To get an assessment of your home's cooling needs, and how a ductless mini-split system can work for you, contact our team at Triple T today by calling our Utah County location at (801) 335-6261. We can't wait to help you cool off this summer.