Skip to Content
How to Prepare Your Home Before Going on Winter Vacation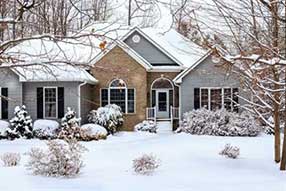 Utah has the greatest snow on earth in part for its cold winter weather. Many places can have overnight lows below 0 and even the warmest spots in the state like St. George can occasionally dip to the teens at night or even colder/ For many Utahns, getting away for a winter vacation is a nice way to warm up, get out of the cold, or visit with family and friends.
But leaving your home for a winter vacation isn't just a matter of packing your bags, turning off the lights and locking the doors. Cold weather can do a lot of damage to an unprepared home and make your return downright lousy. Take these three steps to help winterize your unoccupied home and prevent costly damage.
Lower the Thermostat
While it might be tempting to shut off your thermostat completely to save money on your energy bill, doing so is a bad idea. With cold weather, pipes can freeze and burst, and repairing that kind of damage can cost thousands of dollars.
Before you leave for the winter, lower your thermostat to about 50 degrees Fahrenheit. That's usually warm enough to keep your pipes from freezing but not warm enough to give you a big heating bill. You will need to adjust accordingly if you have pets or plants, but it's important to remember is to only lower your thermostat instead of turning it off altogether.
Lower Your Water Heater, but Don't Turn It OFF
Being away from home, you may be tempted to save money and turn your water heater off. However, much like your thermostat, you shouldn't turn off your water heater completely. Turn it down to a lower setting instead. This will help keep your pipes from freezing without running up your utility bill.
Protect Your Pipes
Keeping your furnace and water heaters on lower settings will help to keep your pipes from freezing, but you should still take extra precautions to make sure they don't burst while you're away. If you have any exposed pipes or faucets in your basement, garage, or exterior, wrap them in insulation.
As for pipes that aren't exposed, there are a few things you can do to keep them from freezing as well. If you have cabinets underneath your kitchen and bathroom sinks, open them to improve the circulation of warmer air around the visible plumbing.
If you're not going to be gone for long and the forecast calls for very cold weather, you could even turn on the faucets to a trickle. Water doesn't freeze as easily while it's flowing, so even a small trickle can help prevent your pipes from freezing. This isn't recommended if you're going to be away for over a week, but it can make a difference if you're only going to be away for just a few days.
Get more travel tips to prepare your home for while you're away here and learn more about preparing your home for winter on our site.