Skip to Content
Why Customers Choose Triple-T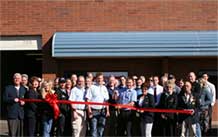 As a Utah family-owned and operated heating, cooling, and plumbing company with over 40 years in the business, you might expect we've delighted quite a few customers over the years. And you'd be right! While we are proud of the business awards we've won and industry recognition we've received, the award we enjoy most is the reward of getting repeat business from existing customers and their referrals.
In reviewing our customer feedback, here is some of what makes our company stand out along with a focus on selected relevant customer testimonials including both residential and commercial customers:
We're Dedicated, Thorough, and Professional
We have worked with Triple T for years and truly appreciate their immediate responses and professionalism. We use them for all our commercial properties and would highly recommend them for commercial and residential work.
– Tim S.
We had a leak in our basement! Triple "T" sent Brady out the same day that we called. He was fabulous! Very thorough! He answered all my questions and showed me everything he was doing. While my carpets are not always clean (Hello! Kids in and out all day!), he made sure to cover his shoes and clean up after the job was done. I was very impressed with Triple "T" and will definitely call them when I need a plumber again! Great job Triple "T"!
– Joey H.
We're Punctual and Provide Fast Service
My experience with Triple T Heating & Cooling in St. George was nothing less than amazing. My family and I have a vacation home there. We were in town and needed immediate service on our AC unit. Triple T was able to get to us in a timely manner as not to ruin our trip. Jason and Lance were very professional and knowledgeable, they even cleaned up after they were finished. Thank you Triple T for being there when we needed you!
– Judy R.
Triple T installed a new furnace for us today and we are very pleased with all aspects of the installation. The technicians arrived on time, were extremely knowledgeable and performed their work well. They took the time to answer all of our questions and showed us how to operate the new furnace. We highly recommend Triple T to anyone who needs new equipment or service because of how well they treated us. Thanks, Triple T! We will be referring you to all our friends and family!
– Michael L.
We're Honest and Trustworthy and Don't Cut Corners
Fantastic!!!!! The diagnostics of the problem showed that I didn't need what had been told to me by another company. This is a company that you can trust!! The AC works better than ever!
– Kevin J.
Triple-T is great! They are among the best at what they do. I trust and recommend them. Weston Tanner is especially trustworthy.
– Dan B.
We're Reliable and a Stable Company
I have used them dozens of times at my properties, and they never disappoint. Highly recommended!
– Johnny V.
We've been using Triple T for almost two years for my business and really like the level of service they have provided. They know their 'stuff' and usually respond to a service call the same day or the next. We've been five different HVAC companies in the Utah county area and these guys are the best. Thanks!
– Christoper C.
We Educate Customers and Give Them Options
Great service as usual! They always explain things well and give good details. They're also great about not pressuring into selling plans or equipment, but still, give options.
– Jon T.
We have been using Triple "T" Plumbing, Heating & Air for years to do bi-annual maintenance on our furnace. They have always been courteous and very helpful. This year when they were checking out our furnace they realized that the furnace was dying and helped us make some informed choices on options. We were so impressed that we purchased and had them install a new system for our home.
They came in a few days and made sure that by the end of the day our home was running warmly with a new furnace and a new water heater. They did excellent work and we would recommend them to those we know. We love doing business with Triple "T" Plumbing, Heating & Air.
– Shane C.
We Cover-Up, Clean Up and Follow Up
I had an excellent experience with Triple "T" Heating and Cooling from the initial call. My call was answered and Jason was at my home the next day. He did a complete evaluation of our problems and soon thereafter had a detailed description and plan for how we could improve our HVAC situation. He always returned calls promptly, was very detailed in his explanation, found the least costly – most effective solution, completed the work on the days specified, and cleaned up after to the point that we didn't even know they had been there. I would recommend Triple "T" for any HVAC needs and could not have more pleased with the value and service we received.
– Ron J.
Jason was friendly as usual and did a complete service of my heating/cooling system. He was respectful of my home by wearing covers over his shoes. I would recommend Triple-T. They are a highly efficient company with friendly employees.
– Merrilyn C.
We're Involved in Our Communities and Give Back
We also take time to listen and give back to our local communities, forge stronger relationships and help those in need. We have given back to neighbors over the years through various donations and community involvement programs, such as the "Hand to Hand Outdoors" foundation, giving assistance to mudslide victims, fabricating bins for Tabitha's Way in Spanish Fork, and lending a hand to those in need of heating help during the holidays.
Committed to the Highest Quality Service
Providing HVAC services in Utah County and St. George and plumbing in Utah County, our business is about prompt, courteous service and proficiently being able to solve customer problems. Our techs among the best trained in Utah. Our company motto is "Service Beyond Expectations" and that's what we always strive to do.
If you'd like to see more Triple-T customer reviews, click here or you can learn how to leave one of your own.