Skip to Content
Tips for Getting Your Furnace Ready for Fall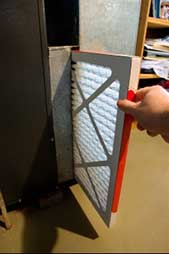 Summer is almost over and autumn is almost here, which means cooler weather is on the horizon. Before chilly nights roll in, you need to make sure that your furnace is up to the task of keeping your family warm. Without cleaning and inspection, a furnace can become inefficient or simply stop working. To avoid furnace repair in the middle of winter, follow these simple tips to make sure that your furnace is ready for the cold fall and winter months ahead.
Clean the Combustion Chamber
The combustion chamber is where the air/fuel mixture ignites, generating heat. This process also generates carbon soot, water vapor, and carbon dioxide. A buildup of soot inside the combustion chamber can cause the chamber walls to corrode. Scrape out carbon deposits using a small wire brush and remove loose debris with an industrial shop vacuum. If you don't have the materials or time to clean out the combustion chamber, hire a furnace repair and maintenance company in St. George.
Replace the Oil Filter
If you have an oil-powered furnace, the oil filter prevents small impurities from clogging the oil-burner nozzle. Clogs in the burner nozzle can result in a misfire that shuts down the system. Check your furnace's owner manual to find out where the oil filter is located. For help changing out the oil filter, contact your furnace repair professional.
Change the Air Filter
During the fall and winter, all the air that your family is breathing comes through the filter. Changing the air filter will not only improve your indoor air quality, but it will also improve your furnace's efficiency. A dirty air filter can compromise efficiency and even shorten the lifespan of your heating system. Air filter maintenance is one of the easiest ways to keep your heating system in great shape all winter long.