Skip to Content
Signs That It's Time to Replace Your Furnace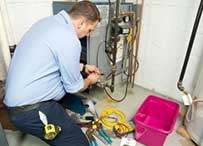 A functional furnace is an essential part of the modern home. A broken furnace won't just make your home uncomfortable—it can also increase the chances of your pipes bursting during the winter. In an effort to save money, you might hold onto your existing furnace for as long as possible; however, there will come a time when you need to have Triple-T Plumbing, Heating & Air install a new one for you. Watch out for the following signs.
Cold Home
Your furnace's main job is to heat your home during the cold months. If it's not performing its job, you should consider getting a new unit. A furnace isn't just responsible for keeping your space warm—it also helps regulate your indoor humidity. If it isn't performing this task either, ask a furnace expert about getting a new unit.
High Heating Bills
A poorly functioning furnace will use a considerable amount of energy as it struggles to keep your home at the desired temperature. If your system isn't functioning as well as it has in the past, as a result, you may see a spike in your utility bill. To get to the root of the problem, have a furnace repair expert evaluate your system. If there aren't any problems with your ductwork or insulation, you may need to get a new furnace.
Old System
Most heating experts say that furnaces should be replaced once every 10 to 15 years. If your furnace has recently broken down after 15 years of reliable service, you might use this opportunity to buy a new unit. You'd be surprised to learn how efficient modern furnaces are—particularly the ones with the Energy Star logo.
Frequent Repairs
You can only repair your old furnace so many times before you throw your hands up in frustration. If your system has broken down more than once in the last year, consider forgoing repairs and investing in a new model. The Spanish Fork furnace repair professionals at Triple-T Plumbing, Heating & Air will gladly help you find a new furnace that suits your home.