Skip to Content
What's Involved in an AC Unit Install?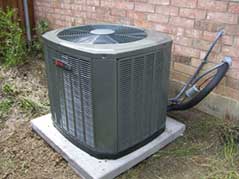 What's Involved in an AC Unit Install?
Has the time come to replace your air conditioner? Perhaps you're building a home in Utah County or Washington County and need to install central air conditioning for the first time. The process of selecting and installing a new AC unit can be more complicated than most people realize. It is certainly not a do-it-yourself job because of the electrical, mechanical, and coolant chemicals involved. Work with a certified HVAC contractor to ensure a smooth process and efficient home cooling for many summers to come.
Planning Your Air Conditioner Installation
The first order of business is to choose the right cooling equipment for your Utah home. Here are the steps involved when making your selection.
Size the Unit
A properly sized air conditioner is critical for home comfort and energy efficiency. An undersized unit can't keep up on the hottest days, leaving you struggling to feel comfortable. On the other hand, an oversized unit is prone to short-cycling, which leads to higher energy bills and excess indoor humidity. HVAC contractors should conduct a formal load calculation to determine your home's cooling needs.
Many factors contribute to summer heat gain, including:
Square footage and ceiling height
Home orientation and window layout
Insulation levels and air infiltration rates
Building occupancy and interior heat gain
And more
Consider that improving your home's insulation, airtightness, and exterior shading may reduce the air conditioner size you need, saving you money upfront and in the long run.
Select an Efficiency Rating
Air conditioning efficiency is expressed by the Seasonal Energy Efficiency Ratio (SEER). The higher the SEER rating, the less it costs to air condition your home. Keep in mind that the federal minimum for new AC units in the northern half of the US, including Utah, is 13 SEER. You must at least meet this minimum, but you can save even more on your energy bills by installing a unit with a higher SEER rating.
Choose a System Type
Most residential central air conditioners are split systems. This means the condensing coil and exhaust fan are located in an exterior unit while the evaporator coil and blower motor are positioned indoors near the furnace. This differs from packaged systems, which combine all components into a single outdoor unit installed at ground level or on the roof. While packaged systems are less common, your HVAC technician can help you make the proper selection for your home.
Delivering the Air
Cooled air from a central air conditioner is delivered through supply ducts, and warm air circulates back to the unit via return ducts. The easiest time to install ductwork is during new home construction, though retrofits are also possible. Even if you already have air ducts, you may choose to modify them if:
You're upsizing the furnace blower as part of the AC installation.
You want to seal leaky ductwork to improve efficiency.
You hope to improve airflow with new grilles and registers.
AC Installation Day
Here's what to expect when the installation team arrives to set up your new air conditioner.
Remove the Existing AC Unit
If this is a replacement project, the team begins by removing all existing components, including the indoor evaporator coil, refrigerant lines, and exterior condensing unit.
Select & Prepare the Site for Installation
Even the quietest air conditioners make noise, so you may want to choose an outdoor location far from any windows and doors, if possible. AC efficiency also receives a boost if you can install the outdoor unit on a shady side of the house.
Aesthetics are a concern as well. You may want to hide the condensing unit behind a screen or landscaping, but keep in mind that it needs adequate airflow to perform efficiently. After selecting a location, the team removes any existing vegetation, levels the ground, and installs or replaces the existing concrete pad, if necessary.
Install the New Air Conditioning System
The team brings in your shiny new air conditioner and gets everything set up. The installation process includes:
Addressing your ductwork needs, if any
Setting up the condensing unit
Installing the evaporator coil
Running refrigerant lines
Connecting high- and low-voltage wiring
Installing the condensate drain line
Verifying the refrigerant charge
Setting up the thermostat
Start Up & Test the New AC Unit
The installer runs the cooling system for 15 to 20 minutes to fill the lines with refrigerant and begin the air conditioning process. While this occurs, the team checks the thermostat, assesses the sequence of operations, and collects data to ensure proper performance. This is the only way to know if the system is operating within manufacturer specifications, an important factor for home comfort, energy efficiency, and warranty coverage from the manufacturer.
Cleanup, Walkthrough & Payment
Once the AC is running smoothly, the installation team starts cleaning up. They load all tools, materials, and old equipment to be hauled away and sweep all work areas to remove any dirt and debris.
Before leaving your home, the HVAC contractor conducts a walkthrough with you. Expect to learn efficient operating tips, maintenance requirements, warranty information, and any special instructions that apply. Once you are satisfied with a job well done, the contractor collects your final signature and payment. Now, you're left to enjoy a cool, comfortable, efficient home this summer and for many summers to come!
Schedule Air Conditioner Installation in Utah County or Washington County
Don't choose an HVAC company that will cut corners on your air conditioner installation! At Triple T Heating, Cooling & Plumbing, we take pride in our thorough AC selection and installation process. We hold our technicians to the highest standard of excellence and will ensure your complete satisfaction before we deem the job complete. To request an AC installation estimate, please contact us at 801-790-0460 if you live in Utah County or at 435-216-1608 for Washington County residents.