Skip to Content
Preparing Your Home for Winter Travels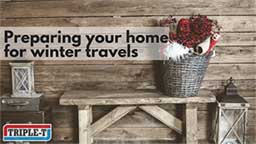 The holiday season is officially here and with the holidays come winter travels. If you are planning an extended getaway, to your favorite family member's home or maybe even a tropical vacation, it is important to protect your home. Your home is a valuable asset and a few preparations ahead of time can prevent disasters while you are away. No one wants to return to a flooded basement, frozen pipes or even a home break-in.
Here Are 10 Easy Tips for Making Your Home Holiday Vacation Ready
Prevent Frozen Pipes- Utah County and even Southern Utah are no strangers to freezing temps. Drain your outdoor sprinkling or irrigation system and insulate exposed pipes. Open up cabinets inside to allow warm air to circulate. If temperatures are expected to dip incredibly low, allow a faucet to a very slow drip.
Cancel Your Mail- It is easier than you think. The United States Post Office has an option right on their website. Canceling your mail prevents mailbox over stuffing and thieves from targeting your house. If your mailbox is overflowing or there are packages on the doorstep, it is easy for people to recognize that you are out of town.
Prevent Break-Ins- Ask a trusted neighbor to keep an eye on your home for any suspicious activity. Leave a light on a timer to give the appearance that someone is home in the evenings. If you have a home alarm system, make sure that it is fully functioning and don't forget to arm it!
Adjust Your Thermostat- Do NOT turn your thermostat off. Remember it is cold outside and your home needs to stay above freezing temperatures. If you have pets or plants inside, consider a comfortable temperature for them as well. If not, it safe to turn your thermostat down a little cooler than you would normally keep it.
Hire a House Sitter- A house sitter is a perfect solution to keeping lights on and things fully functioning. A house sitter is not necessary for everyone, but they can also prevent break-ins, take care of your pets, bring in the mail, keep water flowing through your plumbing and even water your plants.
Secure Your Pets- Do not leave pets out in the cold. If you can't take your furry friends with you, make sure they have a warm place to stay.
Unplug Appliances- This is a simple, yet often overlooked a step. Simply unplug the small appliances you won't be using. This will save you money on your utility bills while you are traveling.
Water Heater- Did you know that your water heater has a vacation mode setting? This setting does not turn the water heater off but reduces the energy it uses. This prevents the water heater's pipes and system from freezing up.
Take the Trash Out- Empty all your trash cans and even clean out the fridge. Anything that will be rotten when you return, needs to go. You do not want to attract unwanted pests or return to an incredibly smelly home.
Ask for Help- If you are not sure that your home is ready for holiday travels, reach out to an expert. Triple T is more than qualified to check your HVAC and plumbing systems (plumbing only in Utah County).
Travel safe this holiday season and rest assured that your home is ready for extended vacations. Triple T can be reached in Utah County at (801) 335-6261.