Skip to Content
7 Tips to Ensure Your HVAC System is Ready for Spring and Summer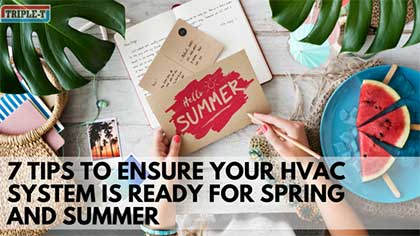 With the change of seasons comes to a change in what your home will require from your air conditioning and heating systems. Is your HVAC ready for the change?
If you don't know the answer to the question, or your answer is "no," then we at Triple T are here to offer a few tips to help you have a comfortable spring and summer.
Make sure your filters are fresh and replaced for the new season. A fresh filter means that there's no dirty stuff coming out of your system into your home, and also allows the HVAC to work more efficiently.
Clean vents, air ducts, and registers. When you have clean vents, air ducts, and registers, you're improving the efficiency of your system, whether you use it for heating or cooling, or, as is sometimes necessary for early spring, a little bit of both.
Consider using a humidifier. This type of machine helps keep a room or building comfortable by ensuring that there is in fact moisture in the air. That will counteract the dryness that comes with increased usage of HVAC systems, and may help to lessen respiratory discomfort that can occur with the change of seasons and turning on the air conditioning.
Remove protective covers from outdoor HVAC units before use. During the fall and winter, covers on the condenser and blankets on oils can keep your system from being damaged, but if you start using the air conditioning regularly and forget to remove these things, they can cause damage. For example, a forgotten cover can lead to a replacement of the entire HVAC system due to the restriction of airflow and the limiting of heat transfer.
Examine pipe insulation and replace anything that is damaged. For the coolant lines on the HVAC system to work properly, the insulation must also be working properly. If you have damaged insulation, from sun rot, animal issues or anything else, it could lead to loss of cooling power in the HVAC system, which is wasteful and is like throwing your money out the window (and not retrieving it). Who wants that?
Check the condensate line on the indoor unit. This hose is also called the coil drainage hose. It is important to ensure that the hose is attached and is positioned to drain into the proper receptacle. Drainage issues could stop the line from working or cause damage to your home where the liquid from the coil drips.
Test the HVAC system. Once you've done all of these things, the last step is, perhaps, the easiest: start the system and test it.
If you're looking for professional assistance in preparing your system, our team at Triple T can get everything up and running. Contact us today to schedule service in St. George area or in Utah County. We look forward to helping you stay comfortable this spring!