Skip to Content
What Size of Room Do Ductless Units Heat & Cool?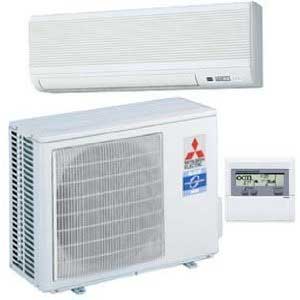 What Size Mini Split System Do I Need?
We have seen an upsurge in interest in ductless heating and cooling units in homes in Utah County and St. George and understandably so. These innovative, efficient units are quiet and clean. Homeowners love the fact that ductless systems save them money year-round on utility bills. They are flexible and leave a smaller carbon footprint.
Ductless heating and cooling systems, like those made by Mitsubishi, are quiet and inconspicuous. When properly sized to the room, they are efficient, delivering reliable, personalized comfort. Here is a closer look at how these units work, what size room they are appropriate for, and how you can benefit from having one or more installed.
How Do Ductless Units Work?
Ductless heating and cooling units have been in the marketplace for more than 30 years. They are a proven technology, widely used around the world, and have become increasingly more efficient.
The system is also called a mini-split system because it has equipment both outdoors and inside the house or apartment. The outdoor unit sends refrigerant to the indoor unit using narrow tubing. A silent fan blows the cooled or heated air throughout the room. The temperature is regulated with a remote control or wall thermostat that is connected to the indoor unit.
What Size Room Can It Cool?
Ductless systems are able to keep a larger area cool and comfortable than a window or portable air conditioner. But it is essential to match the size of the unit to the area you want to cool. Its recommended that you have an HVAC professional determine the proper size. It saves time, money and frustration because you get the right unit the first time.
To give you a general idea for sizes, here is what Mitsubishi recommends for three standard-size rooms:
350 sq. ft. needs a unit with 9,000 BTU
500 sq. ft. needs a unit with 12,000 BTU
750 sq. ft. needs a unit with 18,000 BTU
Ductless units are perfect for garages, upstairs bedrooms, cool basements, and other rooms that are difficult to keep a comfortable temperature. Any room in a home can benefit from having these efficient heating and cooling systems.
What Benefits Can You Expect?
According to the U.S. Department of Energy, the big advantage of ductless units is how flexible the system is. One outdoor unit can heat or cool up to four rooms, using individual indoor units that can each be set at its own temperature.
Because they run so efficiently, ductless systems are also considered an environmentally friendly method of heating and cooling. For example, the Seasonal Energy Efficiency Ratios, SEERs, for Mitsubishi units run from 13 to 22. This also saves you money. Less energy consumption means lower utility bills each month.
Cleaner Air Too
Because they don't use ducts, these units can help improve the air quality in your home. Traditional climate control systems need ducts to spread the heated or cooled air. But these ducts collect dust, pollen, and allergens. Ductless units avoid this problem.
For reliable, quiet, efficient, clean cooling and heating, consider a Mitsubishi ductless system. You can learn more about the many good reasons to select a ductless system here.