Skip to Content
Water Heater Replacement: What You Need to Know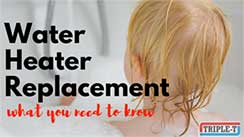 There's nothing worse than coming in from the cold and wanting to take a nice hot shower or soak in the hot bath and finding that nothing but cold water comes out of the faucet. That's right: your water heater has died.
There are a variety of issues that might arise, but when you can't get the hot water your family needs, it might be time to replace your old heater. Even if you're not having urgent problems, improvements in how these systems work and in energy efficiency mighty are reason enough to look for a new water heater.
Considerations When Buying a New Water Heater
Replacing a water heater can be complicated because there are many things that you have to consider and decide on, like the following:
Fuel type: Water heaters run on various fuel types, and those fuel types may or may not be available in your area. According to the U.S. Department of Energy, those types include solar energy, propane, natural gas, fuel oil, electricity, or geothermal heat pump.
Size and Type (Tankless, conventional, hybrid): You'll also want to look at the size and type of water heater. Each works in a slightly different way, holding various amounts of water.

Tankless or on-demand heaters work by drawing cold water in. Once the water is inside, the gas burner activates through a flow sensor and warms the heat exchanger. The cold water encircles the heat exchanger and leaves the heater at the selected temperature. There is a limit to the flow rate, but no heat loss issues.
Heat pump: In these water heaters, electricity moves heat from one place to another – it pulls heat from the surrounding areas into the tank. There are units that have an integrated pump and units that require you to purchase a separate pump. These should be used in warm rooms because they cool the surrounding areas.
Hybrid: A hybrid water heater is an electric water heater that uses a heat pump to bring warm air in and heat the water, using electricity when hot water is needed more quickly than the heat pump can work.
Solar: A solar water heater is comprised of a storage tank and a solar collector; you'll have to choose from active and passive systems (an active system has a circulation pump).

Energy efficiency: A good source for information on energy-efficient water heaters is energy.gov, where information is presented on each type of water heater and how the various systems actually work, in addition to how much energy they use. However, Triple T in Utah County can also assist you with finding answers. We are always here to help.
Don't hesitate to contact us to find out how Triple T Heating can help you with your new water heater. Our technicians can get the installation and servicing done in a flash.