Skip to Content
Sump Pump Maintenance: The Difference Between a Dry Basement or Water Problems in the Rainy Seasons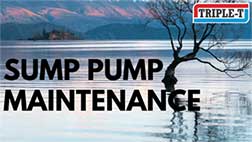 A sump pump can be a crucial piece of equipment in a home during the fall and winter when the rain starts. It keeps water from invading your home once the rains start, and helps keep your home safe and comfortable.
At Triple T, we want your home to be dry and comfortable year-round. We pride ourselves on servicing many of the systems that ensure that comfort, from HVAC systems to sump pumps. If you're not entirely familiar with what they do, here's a bit of a primer.
The motor of a sump pump kicks on when water fills the crock, which is usually in a pit in the basement of a home. This unit keeps water from flooding the basement and potentially causing damage to the basement, the walls, and the foundation of a home. These are standard pieces of equipment in most homes, especially the ones that may be in areas that are prone to heavy rains, or that sit on land with a shallow water table.
Once your sump pump is installed, regular maintenance is very important to keep your home protected, and fall is the perfect time to do that maintenance. There are a few things that we recommend you do at least annually to ensure that your sump pump functions properly.
Annual performance test: There are several steps in this process. First, it is important to clear the pipe that drains the water from the pump outside your home. Any debris that may be in the pipe needs to be removed for proper water flow. Next, test the sump pump to ensure it turns on when it is supposed to. Watch until the sump crock is empty and the unit turns itself off. Another test is of the float switch. This can be done as part of the previous step. The float is a very important part of a sump pump. It determines the water level and tells the motor when to switch on. If it lifts when you add water and the motor doesn't kick on, your pump should be replaced.
Examine the rubber sleeves and clamps: These parts of the sump pump can wear out over time and even crack. Replace the sleeves when you see problems and tighten valves that may have come loose.
Clean the pit and grate: This requires removing the sump pump from the pit and is something you'll want to have a professional do. When you clean the pit and grate that helps by removing pebbles and other debris that can get sucked into the pit during normal operation.
At Triple T, we know how much of a problem it can be when your sump pump doesn't work the way you want it to when you need it to. We are more than happy to help you maintain the system to install a new sump pump if your existing needs to be replaced. We'll even install a new pump if you've not had one in your home in the past.
Contact us today by calling 801-798-7711 to set up an appointment to examine and maintain your sump pump system.