Skip to Content
HVAC Services in Utah
Air Conditioning & Furnace Repairs
For professional HVAC installations, maintenance, repairs, and replacements look no further than Triple-T Heating. For over 40 years, we've been proud to provide Washington and Utah counties with our expert services. Our team makes sure to do our very best to keep you and your family comfortable through every season. Our attention to detail, efficiency, affordability and deep understanding of our systems and tools make us one of the community's favorite companies to work with. Whether your air conditioner isn't providing you with the cool, fresh air it should, or you need to replace your entire heating system, you can rely on us. Contact our team today for HVAC services throughout Washington and Utah county, UT.
About Us
Since 1974, Triple-T Heating has been a family-owned and -operated business. We're dedicated to serving our communities with professional heating, cooling, plumbing, and air quality expertise. Our commitment to providing affordable and reliable repairs, maintenance, and installations is what drives us to keep improving and expanding. We strive to do the very best for our customers, no matter the size of the project. From routine inspections and maintenance checks to full installations and replacements, we do it all with care, efficiency, and professionalism.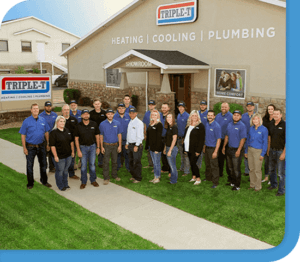 Heating Services
Avoid the possible headache and discomfort of a failed heater this winter by hiring our team for an in-depth heating system inspection. Our inspections include:
Cleaning the internal area
Replacing the air filter
Cleaning the motors
Inspecting ductwork
Checking oil and propane tanks
Testing the entire system
Along with in-depth inspections, your heating system requires routine maintenance to always run its best. Avoid potential breakdowns and high energy bills from overworking your system with annual maintenance from us.
Get the repairs you need quickly and affordably. Call us to schedule your repair if you notice any of the following issues:
Foul smells when you turn on your furnace
Whirring, clanging, or scratching noises from your unit
Higher energy bills when nothing else has changed
You notice your furnace has to turn on more often to heat your house
Inconsistent temperatures in different rooms
Weak airflow coming from vents
Whether you're installing a new system on a new home or it's time to replace your existing unit, we're here for you. How long has it been since you replaced your heating unit? Did you know that modern heaters and furnaces can save you on energy bills by running more efficiently? They are also quieter and come with a long list of modern, innovative features and functions.
Air Conditioning
Keep your family comfortable this summer with a professional air conditioning system installation by our team of experts. Making sure your unit is properly installed will help prevent potential breakdowns, high energy bills, and other complications. Plus, a new air conditioner comes with all types of features to keep you comfortable while lowering your monthly energy bills due to its design and efficiency.
Like all mechanical systems, your air conditioner requires routine maintenance to stay running efficiently and avoiding potentially costly repairs or replacements. We recommend scheduling your air conditioning maintenance annually. Our maintenance service includes the following and more:
Looking for cracks and leaks in your system
Examining refrigerant pressure and levels
Running carbon monoxide tests
Reinforcing worn portions of wiring and ducting
Replacing the filter
When the summer settles in, you rely on your air conditioner to keep you and your family comfortable and safe. If yours unexpectedly breaks, you need fast, efficient, and affordable repairs. We'll be there quickly to repair your air conditioner, so you never have to worry about how long you'll be without a working unit.